Who Wants to be a Millionaire developed by
Joytube Games
, is a game that does a very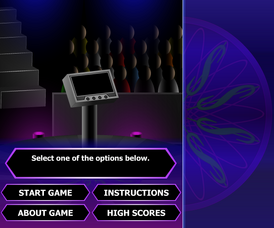 good job at replicating the popular T.V series 'Who Wants To Be a Millionaire'. The game is based on answering quastions to try and win a virtual $1000000. You have 3 lifelines to help you along the way. Phone a friend, 50-50 and ask the audience.
Who Wants To Be a Millionaire is a challenging game. i found myself failing to answer many questions, and when i used the ask the audience lifeline, they gave me the wrong answer which made me somewhat mad. I found when i used the phone a friend lifeline i would be calling wayne the couch potato. Wayne never provided a wrong answer for me and he knew what he was talking about. After many attempts i finally finished it, but it kind of sucks that i didnt actaully win anything. This, for me, made it a pointless game that made me rage about the fact that i did the whole game, which is pretty much identical to the real show, and i didnt win any real money
Good game, but made me rage- 5.4/10
Ad blocker interference detected!
Wikia is a free-to-use site that makes money from advertising. We have a modified experience for viewers using ad blockers

Wikia is not accessible if you've made further modifications. Remove the custom ad blocker rule(s) and the page will load as expected.